Winter frost protection - plant covers
Applications
Florian Zorn Arboriculturist
The Toptex® protective fleece creates a perfect climate for our young plants. We use each of the fleeces over several years.
Protect your plants efficiently against all weather conditions

The Toptex® winter protection fabric safely ensures the protection of plants against frost, desiccation and solar radiation.
For the Toptex® winter cover, there are several areas of application possible:
Ground covering is possible for plants less sensitive to pressure, as it can be easily anchored to the ground; also playing fields and lawns can therefore be safely protected from frost and potential damage.
Tunnel covering is another possible application to safely protect sensitive plants.
Further areas of application include the effective protection for sensitive seeds, the continuous protection for tree nurseries where it can be regarded as a cultivation aid during the following summer after the replanting process.
The wide temperature variations between day and night as well as the extreme sudden temperature drops during winter can safely be balanced out by the application of Toptex® winter protection fabric.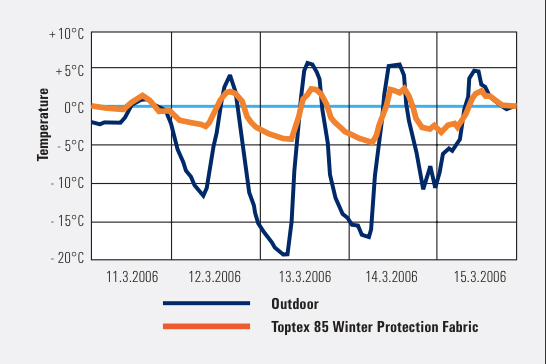 The Toptex® protection fabric for frost cover protection is made from white, continuous polypropylene filament in 85 g/m2 (2.5 oz/yd2) and available in the following sizes:
2.2 x 130 m (2.4 x 142 yd)
2.8 x 130 m (3.1 x 142 yd)
3.2 x 130 m (3.5 x 142 yd)
4.9 x 130 m (5.4 x 142 yd)
The main benefits of Toptex® at a glance

The Toptex® winter protection fabric protects plants efficiently against cold winds, extreme temperature fluctuations and the excessive, thus harmful, UV radiation resulting from the sunlight. At the same time, the vital exchange of gases is guaranteed. The controlled micro-climate maintains the plants health and safety.
The main benefits of the Toptex® winter protection fabric can therefore be listed as creating barrier against wind chill and UV radiation, thereby nullifying temperature extremes, allowing the exchange of gases, which leaves the plants to breath and thereby avoids plant disorder. Furthermore, the Toptex® winter protection fabric provides necessary light absorbtion while also allowing water absorption: whether laid on the ground or in the tunnel method, precipitation is carried within the fabric.
Toptex® winter protection fabric is also highly tear resistant and withstands wind safely. It therefore also is not prone to tearing, like other fabrics (PE etc). Since Toptex® winter cover is UV stabilized, it can be used for several years.
Discover all TenCate Toptex® applications
Contact us
If you have any questions regarding our Toptex® crop farming solutions, please contact us using the form below.